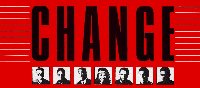 What I think...
The first album released by Change was called "The Glow Of Love". It was released in 1980 on the Atlantic label. It gained fame because one of it's studio singers was to become famous as a soloist. We are of course talking about Luther Vandross, who sang lead vocals on "The glow of love" and "Searching". Luther Vandross was already an established session singer, who had also sang on productions by Gregg Diamond among others. The 12" "A lover's holiday (b/w The end)" became a big hit, while "Searching/Angel in my pocket" was also released as a 12" and received wide club acceptance.
The second Change album appeared in 1981. "Miracles" did not disappoint, and featured again a tantalizing selection of smooth dance tracks. The single that was cut from this album was "Paradise". Many DJ's played the "Hold tight" and "On top" album tracks extensively. The line-up now featured James "Crabs" Robinson as lead male vocalist. Luther Vandross participated as one of the background vocalists, but had released in the mean time his first solo album "Never too much".
The third album, "Sharing your love", came in 1982 and is easily the least known Change release. It featured some excellent tracks, but for some reason they never captured the imagination of the masses that had bought previous Change albums. "The very best in you" title track is however (as far as I am concerned) one of their absolute best songs.

Following their pattern of "one release per year", the next album came out in 1983. "This is your time" followed the same path as it's predecessor. "Magical night" was released as a single (b/w "You'll never realize") as well as "This is your time" (b/w "You'll never realize"). The album contained a gem of a song in "Don't wait another night" which featured beautiful "faint" orchestration and heavy synth base, trademark to Mauro Malavasi.

In 1984 Change released "Change of heart". It was one of the first times that the world heard from a young production duo called Jimmy Jam and Terry Lewis, operating under their Flyte Tyme Productions banner. Jam and Lewis were former members of Prince's band The Tyme and had set up by themselves in Minneapolis.The duo was responsible for writing all lyrics and music, as well as playing an extensive range of instruments. Jacques Fred Petrus served as executive producer, and the tested formula of recording both in Italy and the US was continued. Change welcomed a new lead singer in Rick Brennan. The album was defintely more of a US production, and Mauro Malavasi and David Romani had disappeared from the credits. It was a big success though, as was the hit single "Change of heart".

Finally, "Turn on your radio" was released in1985. This was to be the last Change album, apart from some "Best of" releases. As usual the album was recorded in Italy and the US. This time, Jam and Lewis were not responsible for the output, and David Romani and Paul Slade returned on the writers credits. Rick Brennen was again the featured male vocalist. Single releases were "Turn on your radio", "Oh what a feeling", "Mutual attraction" and "Let's go together". Paul Hardcastle, of "19" fame, remixed "Oh what a feeling" which is now a rare 12".
Change discography
(release numbers according to my record/CD collection):

Albums:
1980 - The Glow Of Love (RFC Records/Warner Bros. RFC3438)
1981 - Miracles (WEA International WEA 99 140)
1982 - Sharing your love (RFC Records/Atlantic SD 19342)
1983 - This is your time (RFC Records/Atlantic 80053-1)
1984 - Change of heart (WEA Records Inc. 240439-1)
1985 - Turn on your radio (CNR Records Holland/Injection 634.015)

CD's:

1989 - Collection (Best of album) (Friends Records 690.021-2)
1992 - The glow of love (RFC Records/Warner Bros. 3438-2)
1998 - The very best of Change (Rhino Atlantic & Atco ReMasters Series R2 75289)
2000 - Sharing your love (EastWest Japan AMCY-6095)
2000 - Change of heart (EastWest Japan AMCY-6096)
2000 - Miracles (EastWest Japan AMCY-6111)

Change songs by others:
2001 - Janet Jackson - All for you (The glow of love)
2000 - Jazzy M - Jazzin' the way you know (Let's go together)
1999 - Funky Green Dogs - Just a little luck (Paradise)
1992 - Grace Under Pressure - The glow of love